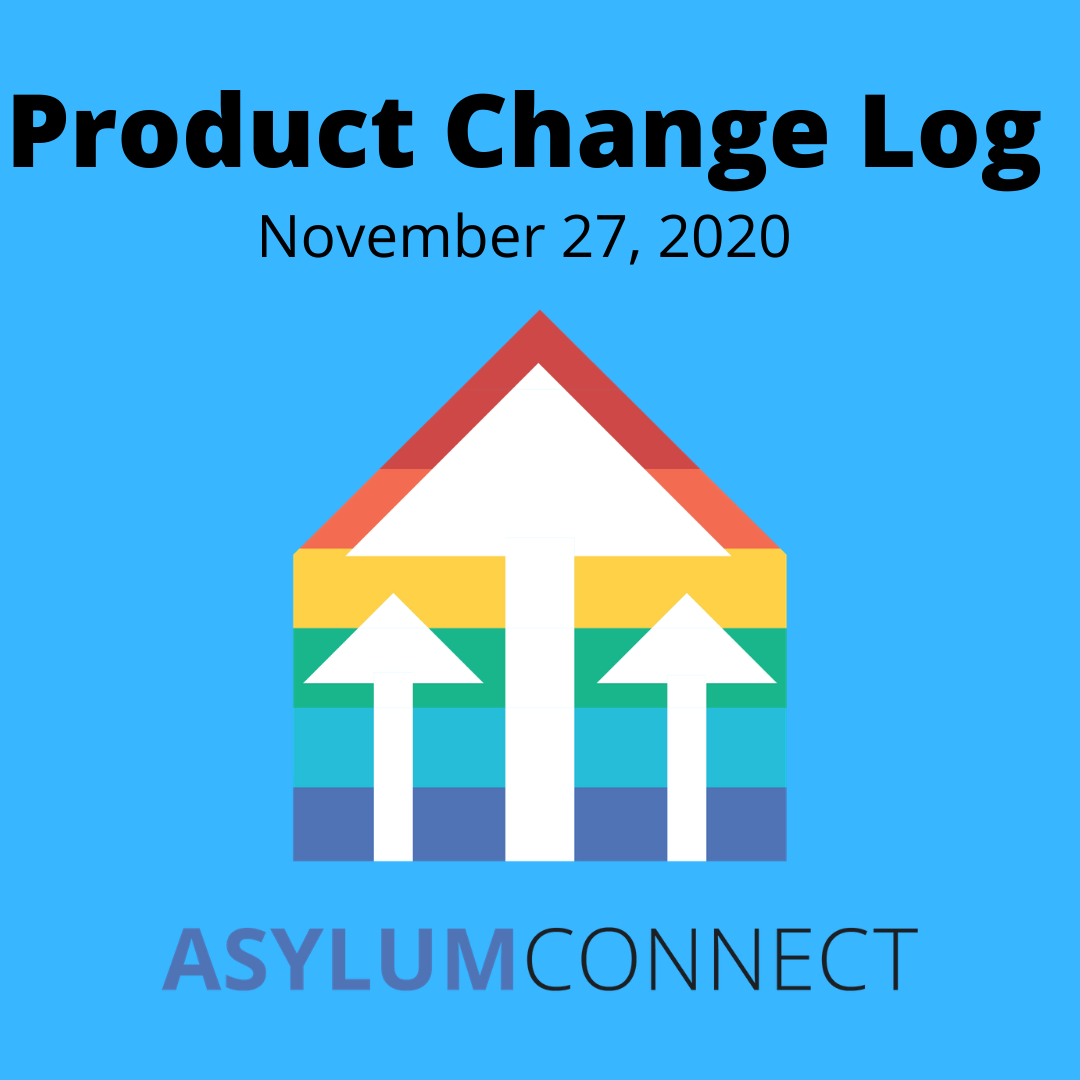 AsylumConnect Product Update (11.27.2020)
See below for a log of technical enhancements made to the AsylumConnect Catalog during November 2020. Follow our blog's change log series for future monthly product updates.  
Want to use your tech skills for good? We're looking for volunteer web developers to join our remote team. 
Addresses issues with user account creation and organization affiliation  

Addresses issue where service icons would not display properly for locale specific services

Adds Affirmative/Defensive asylum notations for asylum application options in the Service Type Dropdown on Search Page
Adds "Verified Information" and "Claimed" badges to organizations' profile pages

The "Verified Information" badge indicates when an organization's profile page was last updated (AsylumConnect's trained volunteers/interns update every organization's profile page at least once every 6 months to ensure resource data accuracy and user safety)
The "Claimed" badge indicates when an organization has registered for a free AsylumConnect service provider user account and successfully affiliated their user account with their organization's profile page (in order to help keep their organization's information up-to-date, etc.)
Adds more UI updates:

Adds drop shadow to navigation bar

Adds label for service icons on Search Results and Organization Profile Pages

Updates layout for "Service Type" dropdown on Search Page

Updates search field style for Google Translate language dropdown

Adds dark overlay when Google Translate language dropdown is opened

Updates Footer and Call to Action 
Removes "Distrito Federal" property from state dropdown for Mexico in service area coverage section in AsylumConnect's back-end data portal. Neighbourhoods which were previously associated with Distrito Federal are now associated with Mexico City to improve search results accuracy. 
Addresses issues with user account creation and organization affiliation