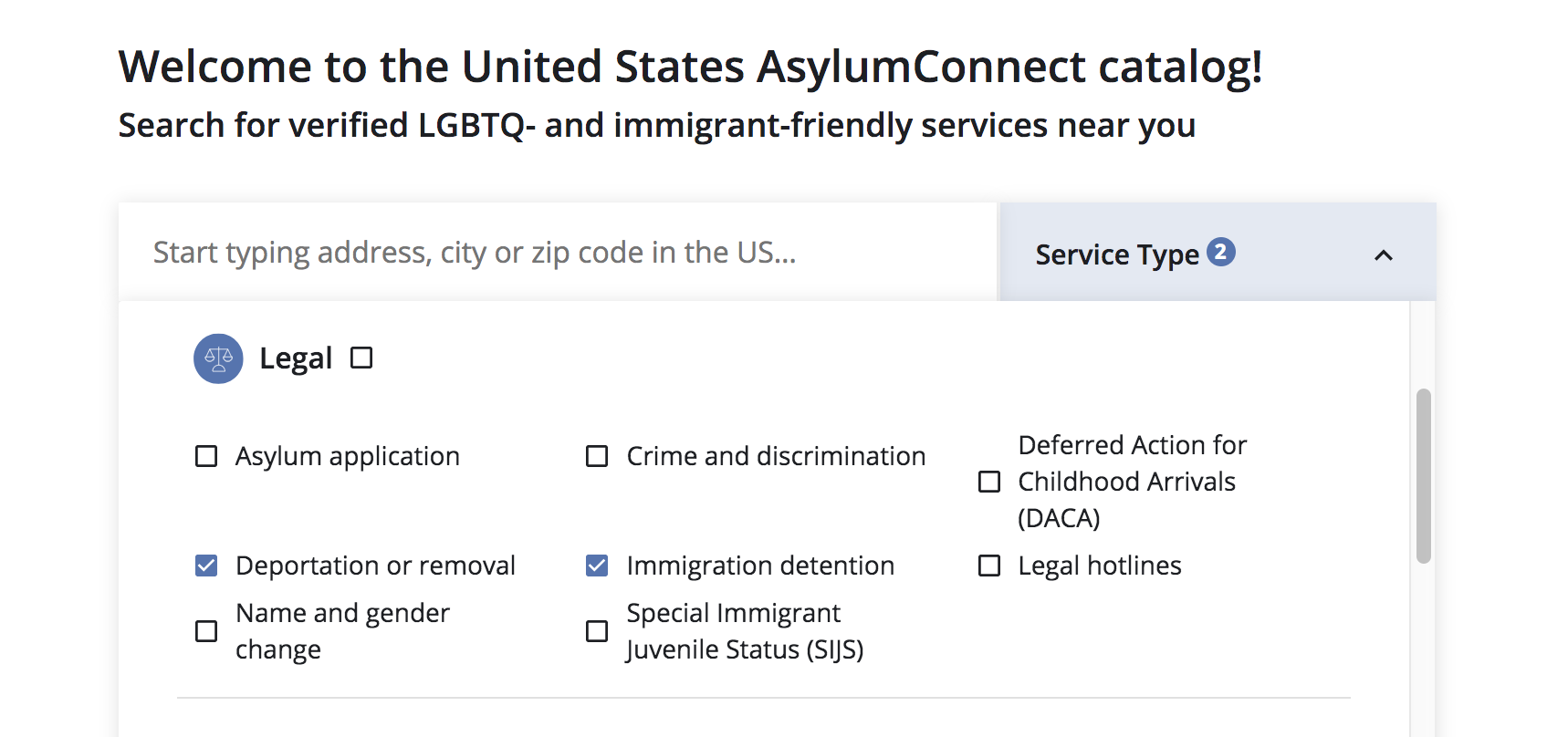 InReach Expands Legal Offerings on United States Catalog
[vc_row][vc_column][vc_custom_heading text="New legal subcategories enable LGBTQ immigrants to connect with legal aid in crisis" font_container="tag:h4|text_align:center|color:%234892da" use_theme_fonts="yes"][vc_column_text]
With existing conditions under the current administration, an increasing number of asylum seekers and undocumented immigrants are facing detention and deportation in the United States. In response, InReach has expanded its resource catalog's verified legal offerings beyond the affirmative asylum process to include guidance regarding detention and deportation as well as other immigration options (e.g. SIJS, DACA) to enable LGBTQ immigrants to connect with legal aid – particularly pro bono support – as easily and quickly as possible. These updates make the InReach Catalog more inclusive of detained asylum seekers, asylum seekers facing deportation, transgender asylum seekers, LGBTQ immigrant youth, and LGBTQ DREAMers.
[/vc_column_text][vc_featured_box heading_text="NEW LEGAL SUBCATEGORIES" content_text="" heading_color="#222222″ content_color="#444444″ graphic_color="#ffffff" graphic_background_color="#4892da" icon="fa fa-bar-chart"][vc_column_text]
New legal subcategories allow for users to more quickly and easily find legal help that meets their needs.
Asylum Application
Get legal help with LGBTQ asylum application

Get help preparing for asylum interview

Get legal help with filing for an Employment Authorization Document (EAD)
      2. Crime and Discrimination
Get legal help for undocumented victims of crime

Get basic information and referrals for LGBTQ people who are facing discrimination
      3. Deferred Action for Childhood Arrivals (DACA)
Get help with DACA application renewal

Get up-to-date information on the status of DACA
      4. Deportation or Removal
Get legal help with deportation or removal proceedings
      5. Immigration Detention
Call national hotline to get help from within immigration detention

Get free legal help for detained LGBTQ immigrants

Get free legal self-representation assistance for detained immigrants
     6. Legal Hotlines
Call a legal hotline to get answers to general immigration questions
Call free legal hotline for low-income New Yorkers
Call a legal emergency national hotline for LGBTQ and/or HIV-positive immigrants
7. Name and Gender Change
Get legal help with obtaining gender-affirming immigration documents for transgender immigrants

Update the name and/or gender marker on immigration documents
8. Special Immigrant Juvenile Status (SIJS)
Get legal representation for undocumented youth in obtaining Special Immigrant Juvenile Status (SIJS)

Get legal representation for unaccompanied minors in immigration court
[/vc_column_text][vc_single_image image="3555″ img_size="full" alignment="center"][/vc_column][/vc_row][vc_row][vc_column][vc_separator][/vc_column][/vc_row][vc_row][vc_column][vc_column_text]Looking for verified LGBTQ-affirming legal help? Visit the free InReach Catalog today:
[/vc_column_text][/vc_column][/vc_row]