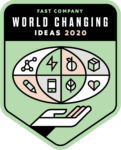 AsylumConnect (now InReach) Selected As Finalist In Fast Company's 2020 World Changing Ideas Awards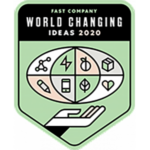 AsylumConnect is the world's first tech resource platform for those fleeing persecution due to sexual orientation or gender identity
New York, April 28, 2020 — The winners of Fast Company's 2020 World Changing Ideas Awards were announced today, honoring the businesses, policies, projects, and concepts that are actively engaged and deeply committed to flattening the curve when it comes to the climate crisis, social injustice, or economic inequality.
AsylumConnect has been selected as a Finalist in the Apps category for Fast Company's 2020 World Changing Ideas Awards. AsylumConnect is a nonprofit leveraging technology to facilitate the safe navigation of people fleeing persecution due to their sexual orientation or gender identity. From leaving their dangerous home country to resettlement, it is often a matter of life-or-death for persecuted LGBTQ+ people to be able to easily identify and connect with legitimate and LGBTQ+ affirming lawyers and other direct service providers. Launched in 2016 in the U.S., the "AsylumConnect Catalog" is the first resource website and mobile app designed for the tens of thousands of people fleeing persecution due to their sexual orientation or gender identity each year. LGBTQ+ asylum seekers and other LGBTQ+ people in need (including undocumented LGBTQ+ immigrants and homeless LGBTQ+ youth) use the AsylumConnect Catalog as a free digital one-stop-shop to meet all of their critical human needs, including: housing, food, hygiene and clothing, legal, medical, mental health, community support, translation, transportation, education and employment services. Lawyers also use the free app to easily gather verified medical, mental health and social service referrals for LGBTQ+ clients. AsylumConnect's full mobile app is currently available in 25 U.S. states and Canada. In response to America's "Remain in Mexico" policy, the organization also plans to launch a native bilingual version of its app in Mexico during Summer 2020 to facilitate the safe navigation of the thousands of persecuted LGBTQ+ people who are being forced to wait in Mexico during the U.S. asylum process.
Now in its fourth year, the World Changing Ideas Awards showcase 26 winners, more than 200 finalists, and more than 500 honorable mentions. A panel of eminent judges selected winners and finalists from a pool of more than 3,000 entries across transportation, education, food, politics, technology, and more. The 2020 awards feature entries from across the globe, from Vancouver to Singapore to Tel Aviv.
"AsylumConnect is the first ever tech resource platform designed for persecuted LGBTQ+ people and we are proud to prioritize the unique needs of the LGBTQ+ community," said Katie Sgarro, co-founder and executive director of AsylumConnect. "At the critical intersection of LGBTQ+ and immigrant rights, our cause and scalable solution are more important than ever."

"There seems no better time to recognize organizations that are using their ingenuity, resources, and, in some cases, their scale to tackle society's biggest problems," says Stephanie Mehta, editor-in-chief of Fast Company. "Our journalists, under the leadership of senior editor Morgan Clendaniel, have uncovered some of the smartest and most inspiring projects of the year."
About AsylumConnect
AsylumConnect is a nonprofit providing the world's first tech resource platform for people fleeing persecution due to their sexual orientation or gender identity. Download the free app on iOS and Android: https://inreach.org/mobile-app
For more information, please visit AsylumConnect.org and follow @AsylumConnect on Twitter, Instagram and LinkedIn.
About the World Changing Ideas Awards
World Changing Ideas is one of Fast Company's major annual awards programs and is focused on social good, seeking to elevate finished products and brave concepts that make the world better. A panel of judges from across sectors choose winners, finalists, and honorable mentions based on feasibility and the potential for impact. With a goal of awarding ingenuity and fostering innovation, Fast Company draws attention to ideas with great potential and helps them expand their reach to inspire more people to start working on solving the problems that affect us all.