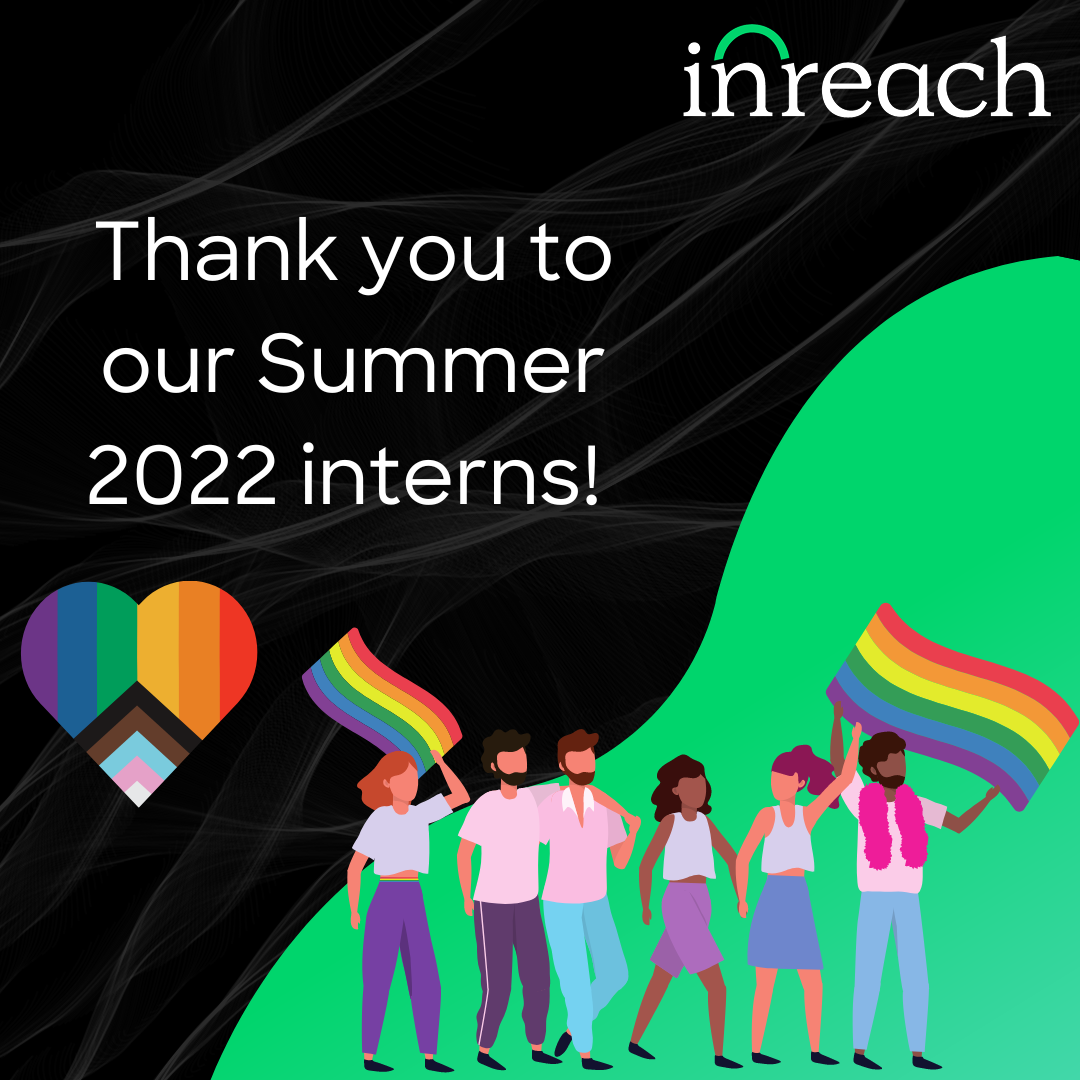 Thank you to our Summer 2022 interns!
A big thank you to our 2022 Summer Interns! Our 2022 Summer Intern cohort was our largest ever, with 50+ interns working remotely across the country to help advance the free InReach App (the world's first tech platform matching LGBTQ+ people with safe, verified resources).
See below for a recap of contributions made by our interns this summer:
Community Research & Outreach Interns (Mexico) 
The Community Research & Outreach (Mexico) Interns reverified every organization available on the InReach App in Mexico so no provider has gone more than 6 months without being updated (repeating InReach's tailored vetting process).
Interns helped with translations in Spanish for internal and external communication (on thee InReach App itself, social media, the UX research team's remote usability testing forms and recruitment handout, phone and email scripts, etc.).
Interns were also able to respond quickly to important policy changes (e.g., SCOTUS's overturning of Roe v. Wade and the overturning of the "Remain in Mexico" policy) and helped to update the InReach App to reflect these changes by adding new direct service providers responding on-the-ground for the LGBTQ+ community.
Community Research & Outreach Interns (Canada) 
The Community Research & Outreach (Canada) Interns reverified ~80% of the organizations available on the free InReach App listed across Canada.
The Community Research & Outreach interns improved the quality of the App by helping to delete or update organizations that were found to not meet InReach's requirements and vetting standards.
Interns also assisted with translations in French for internal and external communication (on the App itself, social media, UX research's emote usability testing forms, phone and email scripts, etc.).
Community Research & Outreach Interns (United States) 
The United States intern team re-verified 1,085 US service providers over the summer! Marking a huge output (and this does not count organizations removed from the App for various reasons). On an individual basis, each intern who completed their tasks on time, completed work on 70 unique organizations across the United States.
These re-verifications improved the quality of information on the InReach App, which makes it easier for LGBTQ+ people in need to find the exact help they are looking for.
A select few interns also took on verifications as side projects, and were able to check 18 unique organizations to see if they met the criteria to be listed on the app. 12 did, and so the interns grew the free InReach App in Virginia, Pennsylvania, California, and nationally.
Corporate/Brand Partnership Interns 
Our Corporate/Brand Partnerships Interns investigated, compiled, and verified contact information for potential partners in the industries of Corporate Law, Media, Finance, and Technology. Interns' research centered on identifying companies for general support pitches based on corporate social responsibility, marketing, and/or human resource goals.
Interns' output included connecting with and soliciting NYC-based small businesses aligned with InReach's mission to be sponsors of a local fundraising event.
Corporate/Brand Partnerships Interns' professional development was focused on building mutually beneficial partnerships between nonprofit and for-profit companies, with the goal of developing and implementing annual and long-term strategies to grow unrestricted income from U.S. corporations through employee engagement, workplace giving/matching gifts, and brand partnerships.
PR/Media Interns 
Our PR/Media Interns sharpened their research skills by compiling a media list of dozens of reporters in the areas of LGBTQ+ rights, immigrant/refugee rights, and locally in the NYC area. This media list will be a direct reference for future news coverage for InReach. The Interns also have compiled a list of social media accounts and influencers with a large following of LGBTQ+ people to expand our social reach.
PR/Media Interns also demonstrated understanding of the need for InReach's free technology by writing blog posts discussing current legislation targeting the LGBTQ+ and trans communities, defining where InReach can help.
ResearchOps Intern (UX Research Team) 
Our ResearchOps intern revised the translation of several versions of our remote usability testing recruitment flyer from English to Spanish.
Our intern demonstrated engagement within the InReach team by helping us record an all-team members meeting, delivered a virtual brown bag lunch talk about the history of LGBTQ+ activism from his first-hand experience, and regularly participated during the UX research team's meetings.
Our intern also talked to several service providers in-person within his community on the West Coast about our tech scale up and free App.
Web Developer Interns 
Control Panel – interns helped to improve the user experience of the InReach Data Portal for InReach's trained volunteers and interns conducting verification and data entry for the free InReach App:

Added new 'Organization Filters' to the Control Panel home screen (Service Area Filters, Claimed Status filters)
Updated the Tags filter (added new values and fixed a bug where some tags were not available for filtering, also updated the list to be grouped by Category)
Added new Categories and Subcategories for Mental Health, Legal, and Housing
Expanded the automation test coverage for Tags and Properties
Front-End – interns also helped to improve the accessibility of the free InReach App via:

Added labels and descriptions to help with Internationalization efforts
Display "Mandarin" instead of "Chinese" for supported languages
---
Thank you to our interns for all their hard work this summer! 
Interested in joining our intern team? Check our website for upcoming available internships.