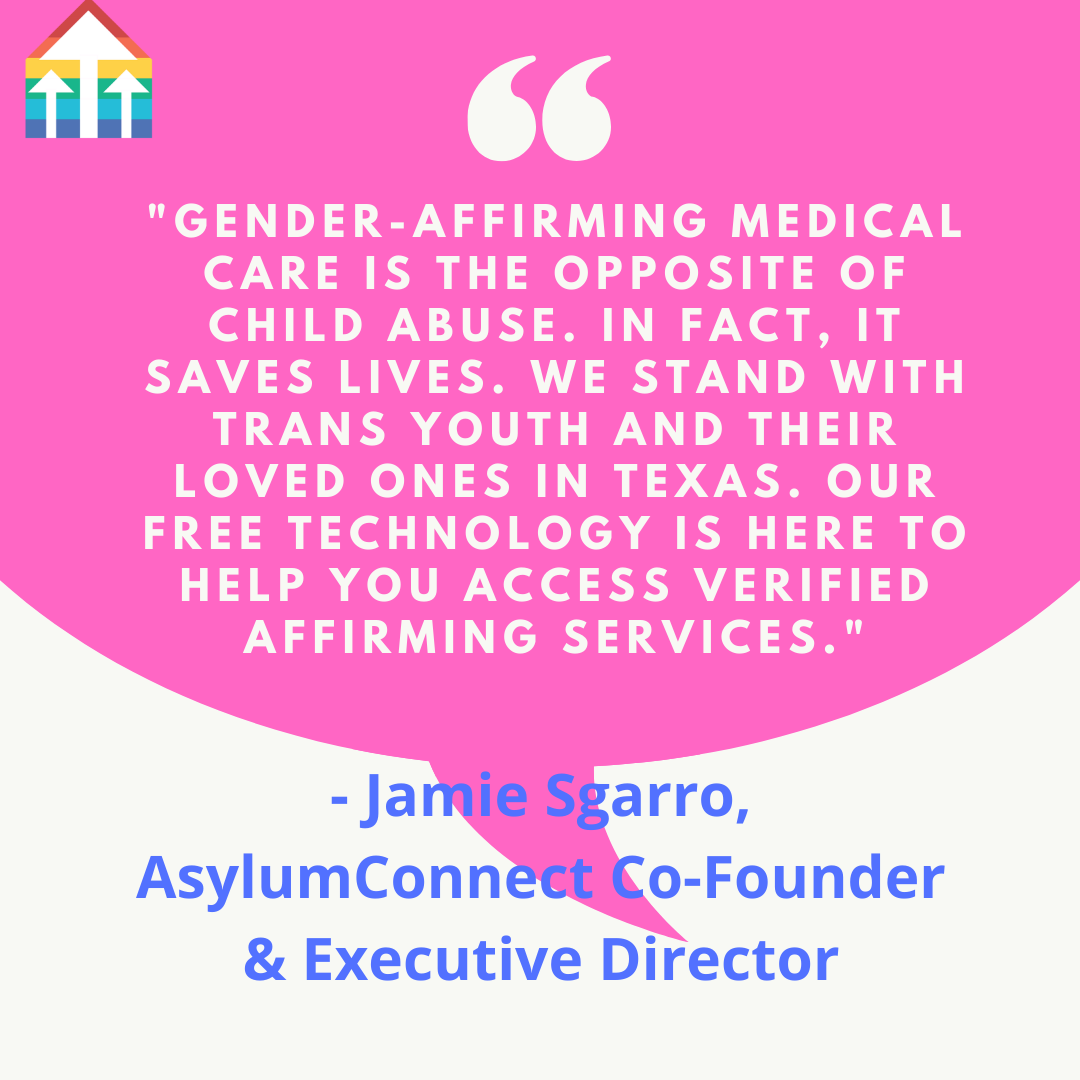 How Trans Youth and Their Loved Ones in Texas Can Use InReach's Free Technology to Find Verified Affirming Services
[vc_row][vc_column][vc_custom_heading text="#ProtectTransKids" font_container="tag:h4|text_align:center|color:%234892da" use_theme_fonts="yes"][vc_column_text]
At InReach, we provide the world's first free web and mobile resource platform designed for LGBTQ+ people fleeing persecution. Whether you are a LGBTQ+ person leaving an unsafe community, or crossing the border between states or countries, InReach's free tech resource platform is here to help you navigate your journey to safety.
Right now, Texas Governor Greg Abbott is calling on "licensed professionals" and "members of the general public" to report the parents of transgender minors to state authorities if it appears the minors are receiving gender-affirming medical care.
At InReach, we know that gender-affirming care saves lives. Trans youth and their loved ones in Texas can use our free technology to access independently verified affirming services. Additionally, families planning to relocate to another state or send their trans kids out-of-state, can also use our free resource platform to identify verified trans affirming services in their new community.
[/vc_column_text][/vc_column][/vc_row][vc_row][vc_column][vc_single_image image="18460″ img_size="large"][vc_custom_heading text="HOW TO USE INREACH TO FIND VERIFIED TRANS-AFFIRMING SERVICES" font_container="tag:h4|text_align:center|color:%234892da" use_theme_fonts="yes"][vc_column_text]On your computer (or a web browser on your phone), visit: https://app.inreach.org
You can also download our free mobile app here.
Select your language and the United States as your country. Then type in the city or state where you are looking for verified affirming services. Click "Service Type" and select all of the types of support you are looking for from the drop-down menu. Sample service types include: "Medical – Trans health", "Legal – Name and gender change", "Hygiene and Clothing – Gender-neutral restrooms," "Hygiene and Clothing – Gender-affirming items", "Mental Health – Trans support groups", "Community Support – LGBTQ centers", and "Housing – Drop-in centers for LGBTQ youth".[/vc_column_text][vc_single_image image="18461″ img_size="large"][/vc_column][/vc_row][vc_row][vc_column][vc_column_text]Then click on "Search" to begin finding verified safe, affirming services. Scroll down the page to view the verified direct service providers who can help.[/vc_column_text][vc_single_image image="18462″ img_size="large"][/vc_column][/vc_row][vc_row][vc_column][vc_column_text]Click on "Additional Filters" to remove direct service providers from your search that require any specific documentation (e.g. Photo ID, proof of residence/age/income, medical insurance, a referral) that you do not have access to.[/vc_column_text][vc_single_image image="18463″ img_size="large"][/vc_column][/vc_row][vc_row][vc_column][vc_column_text]Click on any organization's name to learn more about their services and to view their contact information and access instructions.[/vc_column_text][vc_single_image image="18464″ img_size="large"][vc_single_image image="18465″ img_size="large"][vc_single_image image="18466″ img_size="large"][/vc_column][/vc_row][vc_row][vc_column][vc_column_text]Sign-up for a free user account to unlock additional functionality, including:
Public ratings and reviews: once logged-in, users can share public ratings (one to five stars) and written reviews on all resources
Save and share resources: once logged-in, users can also save and share their personalized resource list(s) via print or email
Public resource submissions: once logged-in, users can "suggest" new direct service providers that they think might be a fit for our platform via our "Suggest New Resource" form
[/vc_column_text][vc_single_image image="18470″ img_size="large"][/vc_column][/vc_row][vc_row][vc_column][vc_column_text]
Share our free resource platform with those in need of trans-affirming support: https://app.inreach.org
[/vc_column_text][vc_single_image image="2825″ img_size="full" alignment="center"][/vc_column][/vc_row]