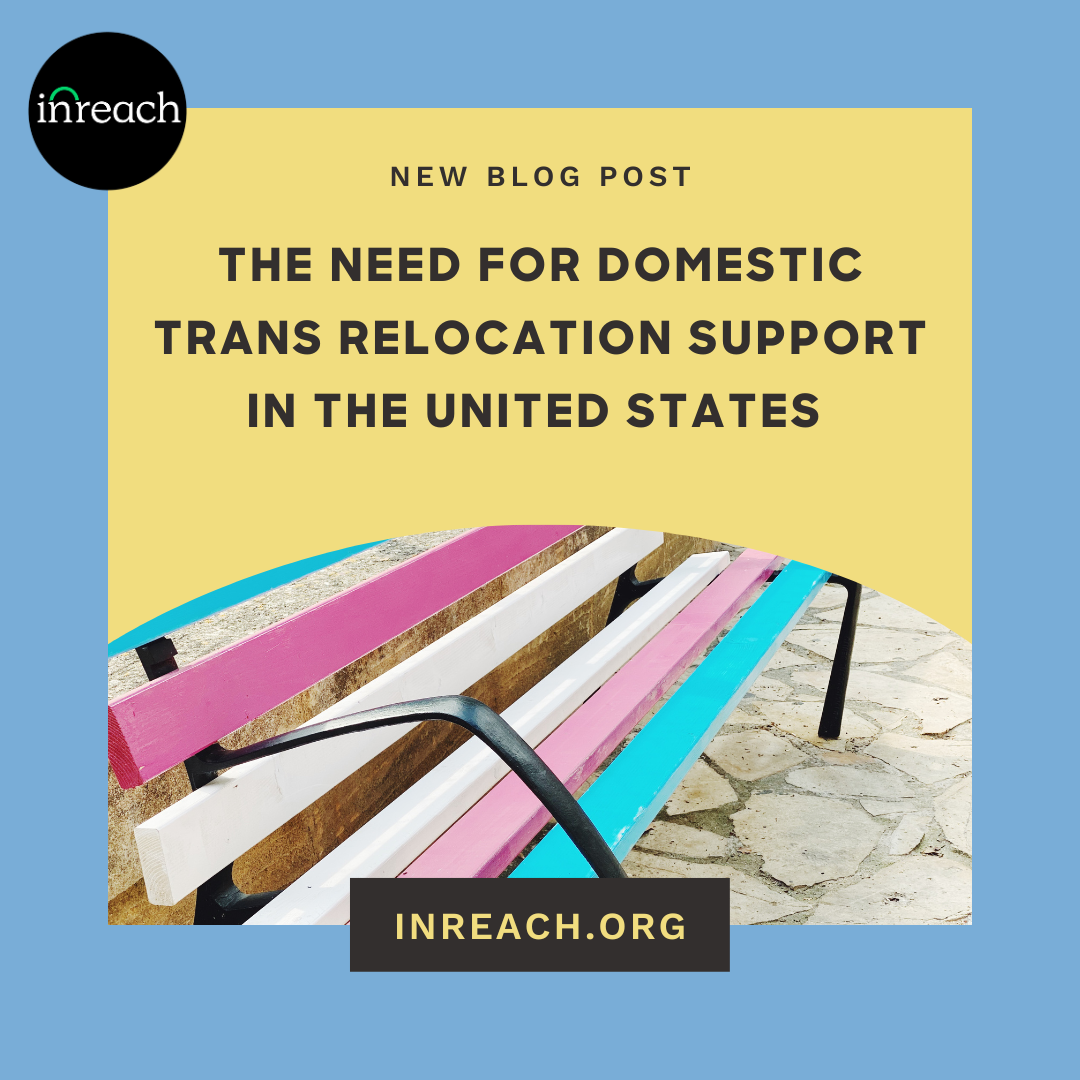 The Need for Domestic Trans Relocation Support in the United States
The Need for Domestic Trans Relocation Support in the United States
September 2023
Intro
InReach (fka AsylumConnect) is a trans-led tech nonprofit increasing resource access for the diverse LGBTQ+ community. The free InReach App is the world's first tech platform matching LGBTQ+ people facing persecution or discrimination with safe, independently verified resources.
Throughout 2023, InReach has heard directly from numerous trans people and families impacted by the unprecedented wave of anti-trans legislation sweeping across the United States. Many are seeking to flee hostile states and relocate to safer 'sanctuary' states. Some are hoping to leave the U.S. altogether in favor of resettling in a country with more societal acceptance and legal protections for transgender people. All deserve to live freely without fear of violence or discrimination.
Background 
This year, there have been over 560 anti-trans bills introduced in 49 states. These bills propose bans on health care for minors and adults, restrictions on transgender students' rights at school, and attempts to erase trans people from public life, among other attacks.
According to the Williams Institute at UCLA Law, approximately 146,300 transgender youth in 30 states have lost or are currently at risk of losing access to gender-affirming care. Transgender adults are also being targeted in some states. For example, Florida has eliminated up to 80% of adult gender affirming care.   
In June 2023, the Human Rights Campaign (HRC) declared a national state of emergency for LGBTQ+ Americans for the first time in its forty years. Two months later, the Canadian government issued a travel advisory warning LGBTQ+ citizens of risks they could face when traveling to the U.S. The United States' default position as a comparatively safe country for LGBTQ+ people is being challenged and in its wake, the very concept of LGBTQ+ forced migration is changing. The current surge in U.S. anti-trans legislation is creating a new kind of 'political refugee' within our own country: thousands of transgender people and their families in the U.S. are being forced to create escape plans,  flee hostile states and cross state borders to start a new life in a safer 'trans sanctuary' state. This bears striking similarities to trans people fleeing their dangerous home countries and crossing international borders to resettle as refugees or seek asylum in the U.S. In both scenarios, access to verified, affirming resources is vital. As a trans-led nonprofit with a history in LGBTQ+ asylum, we at InReach feel compelled to call attention to this alarming parallel and consider what it means for a shrinking segment of the U.S. to be safe for the trans community.
"As a trans man who used the free InReach App to access gender affirming care myself, I know both how vital this care is and how difficult life is without it. Yet despite this reality, over half of the states in this country are attempting to restrict trans peoples' basic right to essential, life-saving care. These baseless laws are in turn exacerbating systemic inequities faced by low-income people, BIPOC communities, and asylum seekers and refugees. We at InReach remain committed to ensuring that all trans people fleeing persecution–both domestic and international–have on-demand access to the resources they need to survive and ultimately, thrive." – Jamie, Co-Founder & Executive Director at InReach 

"As we wait and watch, plan and prepare, we are saving our money in hopes that we can relocate to a safe state where we do not have to fear for the safety of our trans child at the hands of the government. Those of us living in hostile states are searching for access to resources like what is currently available in bordering states. Soon seeking care across state borders may be made even more difficult. Our family is using InReach to find a safe place to relocate to ensure all members of our family can thrive." – Shannon, Programs Director at InReach
---
The On-the-Ground Response in the U.S. 
Gaps In Coverage 
To-date, InReach has identified 9 unique organizations providing trans relocation services to trans people and families impacted by anti-trans legislation in the United States. 
The United States continues to lack a well-funded domestic relocation program equipped to meet the needs of trans people and their families who are being forced to flee hostile states for safer states due to the rise in anti-trans legislation. 
The limited number of organizations that are offering relocation assistance tend to be small, relatively new community organizations (or new projects of established organizations) that lack major funding and the capacity to meet the rising demand for these urgent services.   
InReach's Response 
New 'Trans Focused Services' category 
InReach has added a new 'Trans Focused Services' category to the free InReach App. This new category features the following subcategories of verified support:
Trans Relocation Support (*new)
Transportation for Gender Affirming Care (*new)

Trans Housing

Gender Affirming Items

Gender Neutral Bathrooms

Name and Gender Marker Change

Trans Health – Gender Affirming Surgery

Trans Health – Hormone and Surgery Letters 

Trans Health – Hormone Therapy 

Trans Health – Primary Care

Trans Health – Speech Therapy 

Trans Health – Youth Care (*new)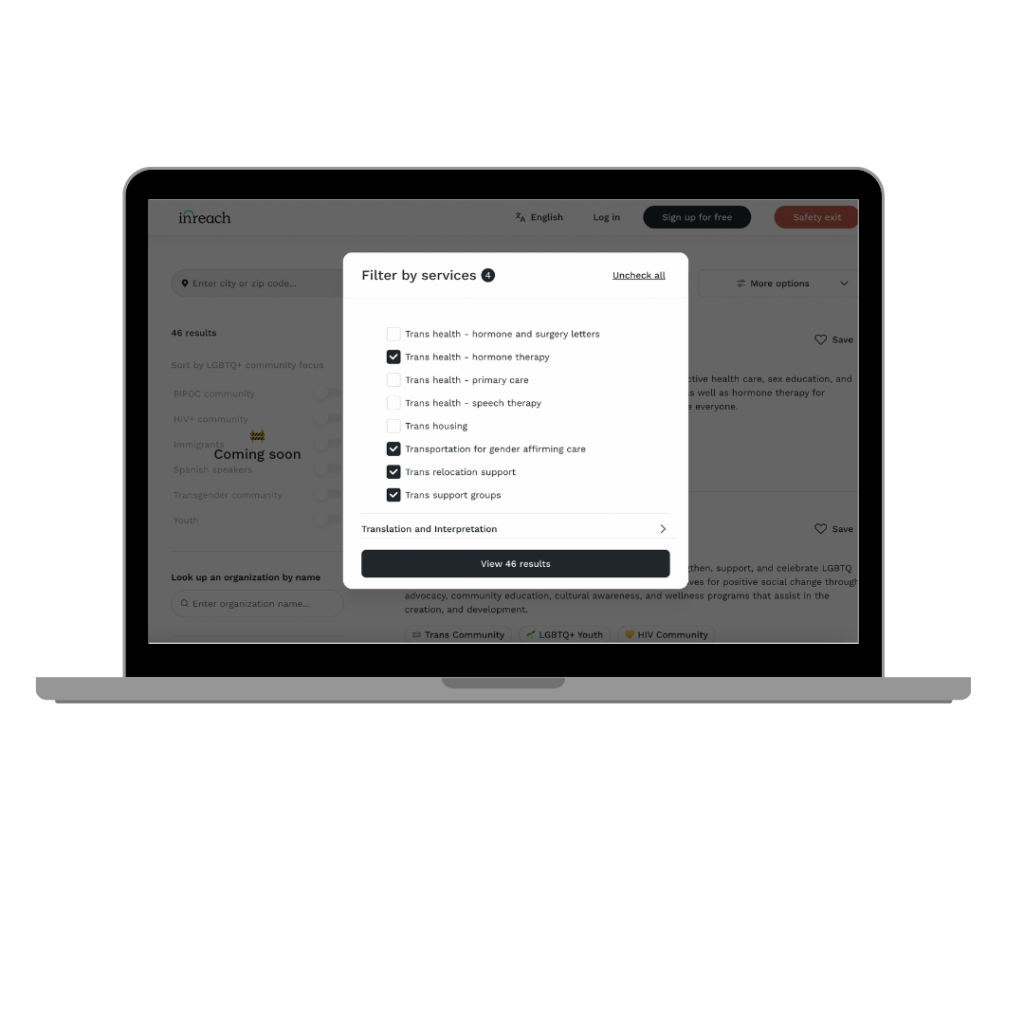 The Benefits of Open-Source Technology 
InReach is also encouraging people across the United States to suggest new organizations providing relocation support or other critical assistance to trans people and their loved ones via InReach's public 'suggest an organization' form.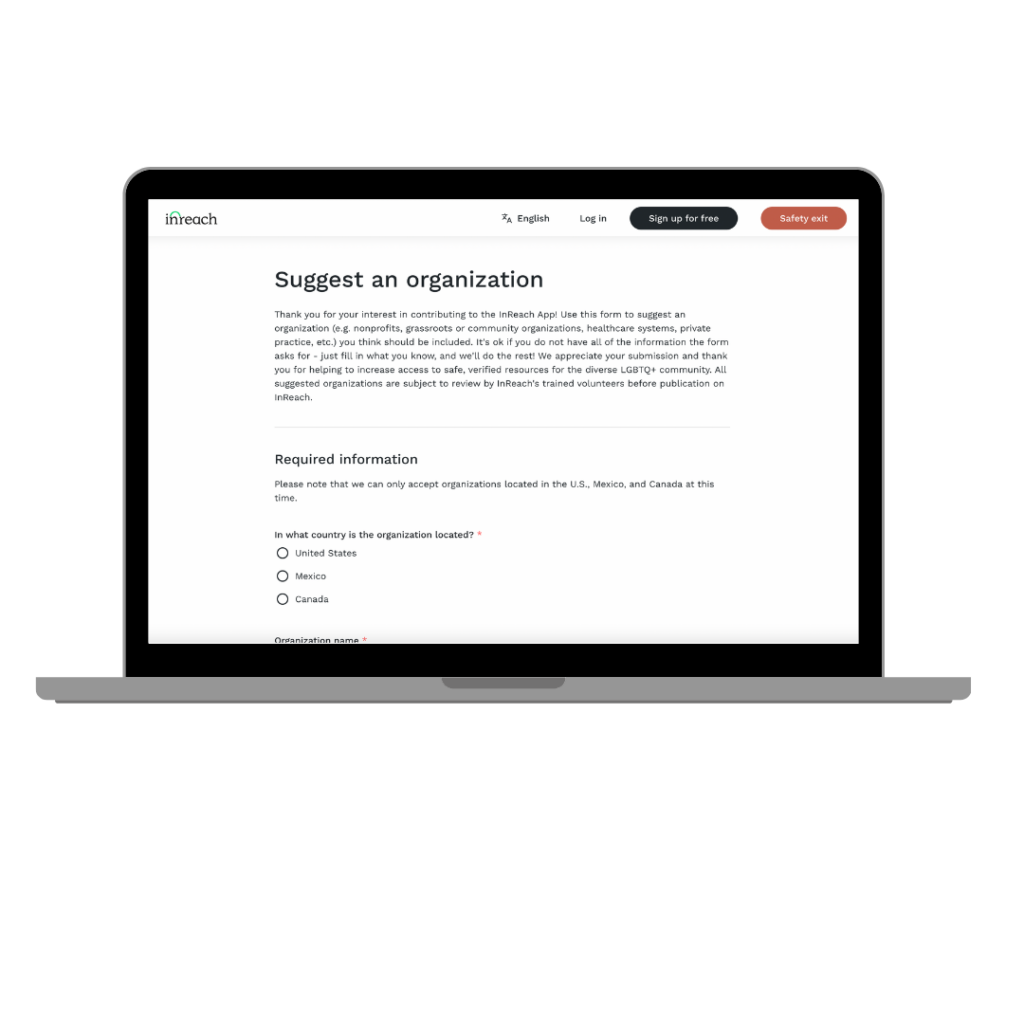 International Expansion of InReach 
As we hear from more trans Americans who are afraid for their safety in the U.S. and who are now seeking to relocate abroad, we are continuing to expand InReach across Canada. In the longer-term, we are seeking partner organizations who can help us to expand InReach to additional countries. 
*We are accepting public resource suggestions for more LGBTQ+ affirming resources in Canada here. 
**If you would like to discuss partnering to bring InReach to your country, get in touch here.
---
InReach's Recommendations
Recommendations for Domestic Advocates & Media 
It is important to acknowledge that there are fundamental differences between who we may refer to as

"state trans refugees"

(i.e., trans Americans and families fleeing anti-trans legislation and moving states) and those who we may refer to as

"trans refugees"

or

"trans asylum seekers"

(i.e., trans people fleeing persecution in their home countries and crossing international borders to resettle in the U.S.). We can both recognize the horrific situation that trans Americans and their loved ones are experiencing right now while also honoring the unique challenges that trans refugees and asylum seekers face during international resettlement in the United States. 

Distinguishing these situations through language will also help to keep our country accountable for responding to both of these life-threatening situations without overlooking the differences present (e.g., language and cultural barriers, immigration challenges) between trans people seeking sanctuary from abroad versus trans people seeking sanctuary from within our borders. 
Recommendations for Employers
Employers should be vocal against anti-trans laws and take tangible action to demonstrate their allyship with the trans community all year round.

Specifically, we encourage employers to establish a relocation fund for their trans employees directly impacted by anti-trans legislation. For an example of this idea in action, see

Indeed's $10k relocation stipend program

.

We also encourage employers to invite trans-led organizations and trans community organizers to facilitate educational discussions with their employees on pressing issues facing the diverse TGNC community. (For example, employers can book a virtual lunch & learn webinar hosted by InReach here.)
Recommendations for Government & Private Funders 
There is a clear need to allocate significant, multi-year funding towards establishing a relocation program to address domestic LGBTQ+ forced migration in the United States (e.g., right now, focused on trans people and families who are being forced to move from a hostile state to a safer state due to anti-trans bills). 

As a digital one-stop-shop for the diverse LGBTQ+ community, we at InReach understand the tremendous value of movement-building and coordination. As a result, we encourage funders to identify and invite direct service providers already working on this urgent issue to join a coalition of grantee partners to implement such a necessary program together. In tandem, InReach is also seeking additional funding to support the accessibility, development, expansion and promotion of the free InReach App in local communities across the country to ensure trans people and their loved ones have free, on-demand access to all the safe, verified resources available to them (

learn more

|

donate

). 

Sample relocation services InReach has directly witnessed trans people and their families impacted by anti-trans legislation need right now, include: 

Physical relocation (e.g., transportation, moving costs) to a safer state 

Safe housing 

Access to gender affirming care 

New community integration and resource referrals 

Emergency financial assistance to meet other immediate needs 
Recommendations for Individuals 
We urge individuals to take action today by: