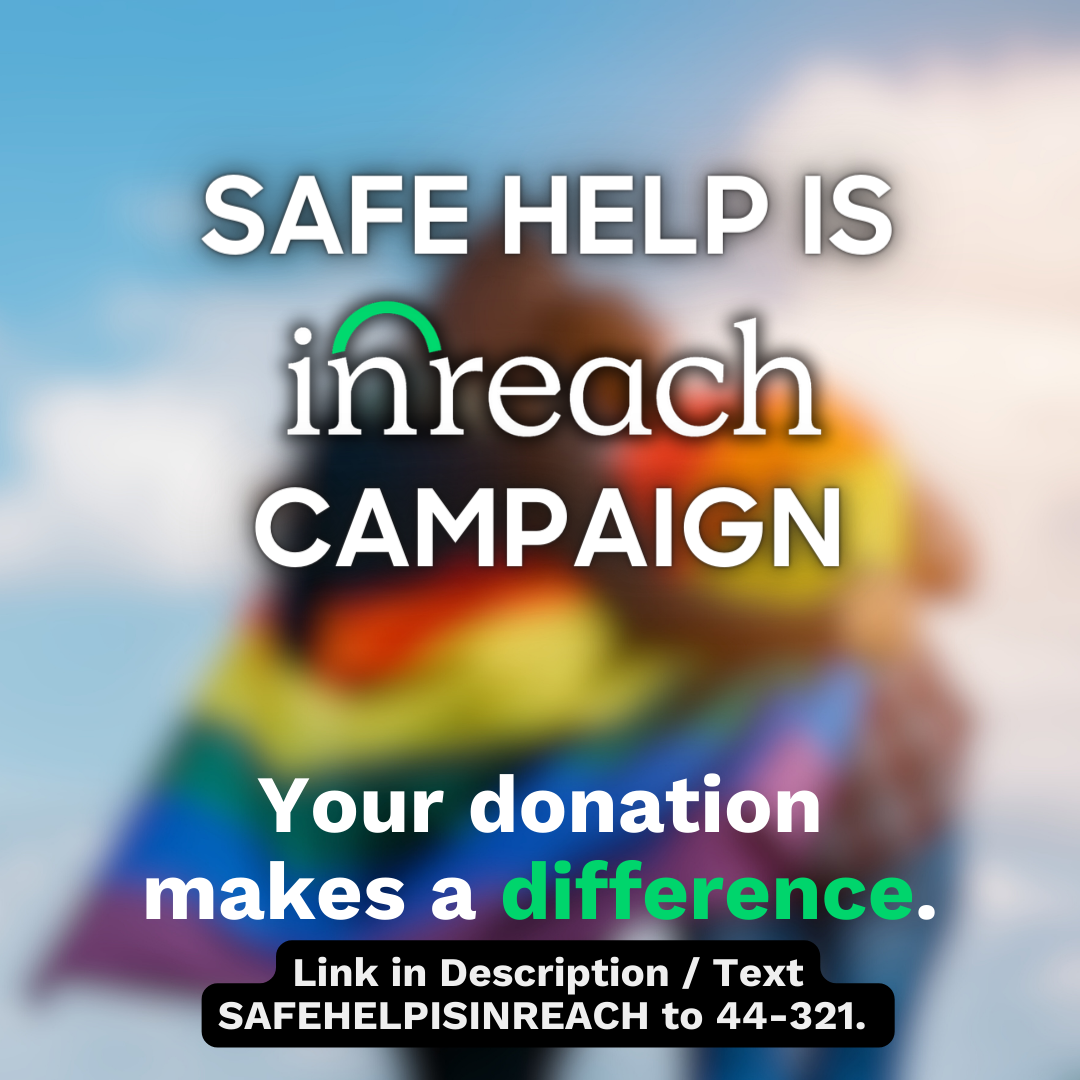 InReach Launches the #SafeHelpIsInReach Giving Campaign
THE 'SAFE HELP IS INREACH' CAMPAIGN
October 2nd – December 31st, 2023 
Give today to ensure safe help is InReach for all members of the diverse LGBTQ+ community. Your donation will support the development, expansion, promotion, and accessibility of the free InReach App in communities throughout North America.
---
Join the
Safe Help Is InReach Challenge

to help expand InReach in local communities across the U.S./North America:
Step 1

: Donate $25 to this campaign and post on social media 

Step 2

: Challenge at least 2 more people to donate $25 to this campaign

AND

pass on the challenge via social media/email/text to 2 new people in their network to keep the challenge going! 

Step 3

: Stay involved: 
Together, we can ensure safe help is
InReach
for all members of our diverse LGBTQ+ community. 
---
Learn More:
What Is InReach? 
InReach is a trans-led tech nonprofit increasing resource access for the diverse LGBTQ+ community. The free InReach App is the world's first tech platform matching LGBTQ+ people facing persecution or discrimination with safe, independently verified resources. Our vision is for every LGBTQ+ person to have on-demand access to the safe, affirming resources they need to thrive. 
Who Does InReach Help?:
The free InReach App is built for the intersectional, diverse LGBTQ+ community. Sample anonymous demographic profiles of InReach App users include:
Take a Look at the Free InReach App: 
Learn more on our blog.
Why Should I Donate to InReach Today?
Despite the rise in harnessing technology to tackle pressing social issues, the LGBTQ+ movement has lacked a scalable, technologically advanced, holistic resource platform. The need has only increased with the recent surge in anti-LGBTQ+ laws taking effect. Too many local advocacy and community organizations have had to decide whether they have the capacity and/or the network to create and maintain their own resource lists.
With proper funding and increased visibility, InReach is poised to fill this gap and produce systemic change for our diverse community.