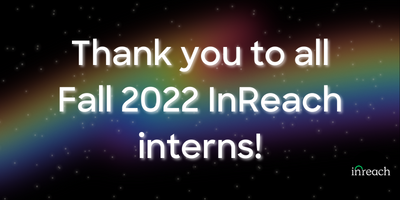 Thank you to our Fall 2022 interns!
We're sending a huge thank you to our 2022 Fall Interns! Our team worked across various departments in the across the organization to promote and develop the free InReach App (the world's first tech platform matching LGBTQ+ people facing discrimination and persecution with safe, verified resources).
Here's a recap of contributions made by our intern teams from September to December:
Community Research & Outreach Interns (Spanish) 
The Community Research & Outreach (Spanish) Interns re-verified every organization available on the InReach App in Mexico – so no provider has gone more than 6 months without being updated (repeating InReach's tailored vetting process).
Our Spanish interns verified over 20 new organizations as safe for LGBTQ+ individuals located in Mexico.
Members of this team also translated all organizations assigned to them into native Spanish!
Community Research & Outreach Interns (French) 
The Community Research & Outreach (French) Interns re-verified every organizations available on the free InReach App listed across Canada.
Our French interns verified over 30 new organizations as safe for LGBTQ+ individuals located in Canada.
Interns also assisted with translations in French for internal and external communication (on the App itself, phone and email scripts, etc.).
Community Research & Outreach Interns (English) 
The Community Research & Outreach (English) Intern team re-verified 900 US service providers over the Fall semester! These re-verifications improved the quality of information on the InReach App, which makes it easier for LGBTQ+ people in need to find the exact help they are looking for.
One of our interns did verification work on 35 organizations and was able to successfully add 14 new organizations to the free InReach App!
Junior Board Interns 
Our Junior Board Interns assisted in design of Junior Board meeting promotional materials and brainstormed creative ways to increase engagement across our Junior Board!
This team researched 75 listed resources in key areas (TX., DC, Bay Area) to identify Corp Supporters, sent to our new Development Director for future initiatives.
They also assisted in the exciting restructure of Junior Board committees for upcoming service year!
Social Media Interns 
Our Social Media Interns launched a new TikTok channel for InReach's future initiatives that will expand our visibility into the future!
These interns designed inclusive and diverse content across LGBTQ+ History Month in October, as well as mini advocacy campaigns for Bisexual and Trans Awareness weeks, and an Instagram story series on myths that stigmatize the LGBTQ+ community.
Interns also carried out digital outreach to spread awareness of the free InReach App to influencers and content creators in the LGBTQ+ community.
UX Research Interns
Our UX Research Interns were excellent contributors to the team! They completed competitor analysis of 15+ websites and apps to inform our UX design team about 4 ways to embed alert messages on our web and mobile app.
This team successfully recruited and carried out brand perception pilots with 2 participants, and reviewed the brand perception discussion guide with suggestions for a new structure.
They also created a template for note taking to be used during the brand perception study!
Web Developer Interns 
Our Web Developer interns completed large data migration to clean up incorrect data.
They also worked on creating new service tags that are important in filtering and sorting the resources on our free App.
One of our Web Developer interns is staying with InReach into the Spring 2023 cohort, and is learning & experimenting with TypeScript & Next.js to get ready to take on larger parts of a new rewrite project!
---
Thank you to our interns for all their hard work this Fall! 
Interested in joining our intern team? Check our website for upcoming available internships.