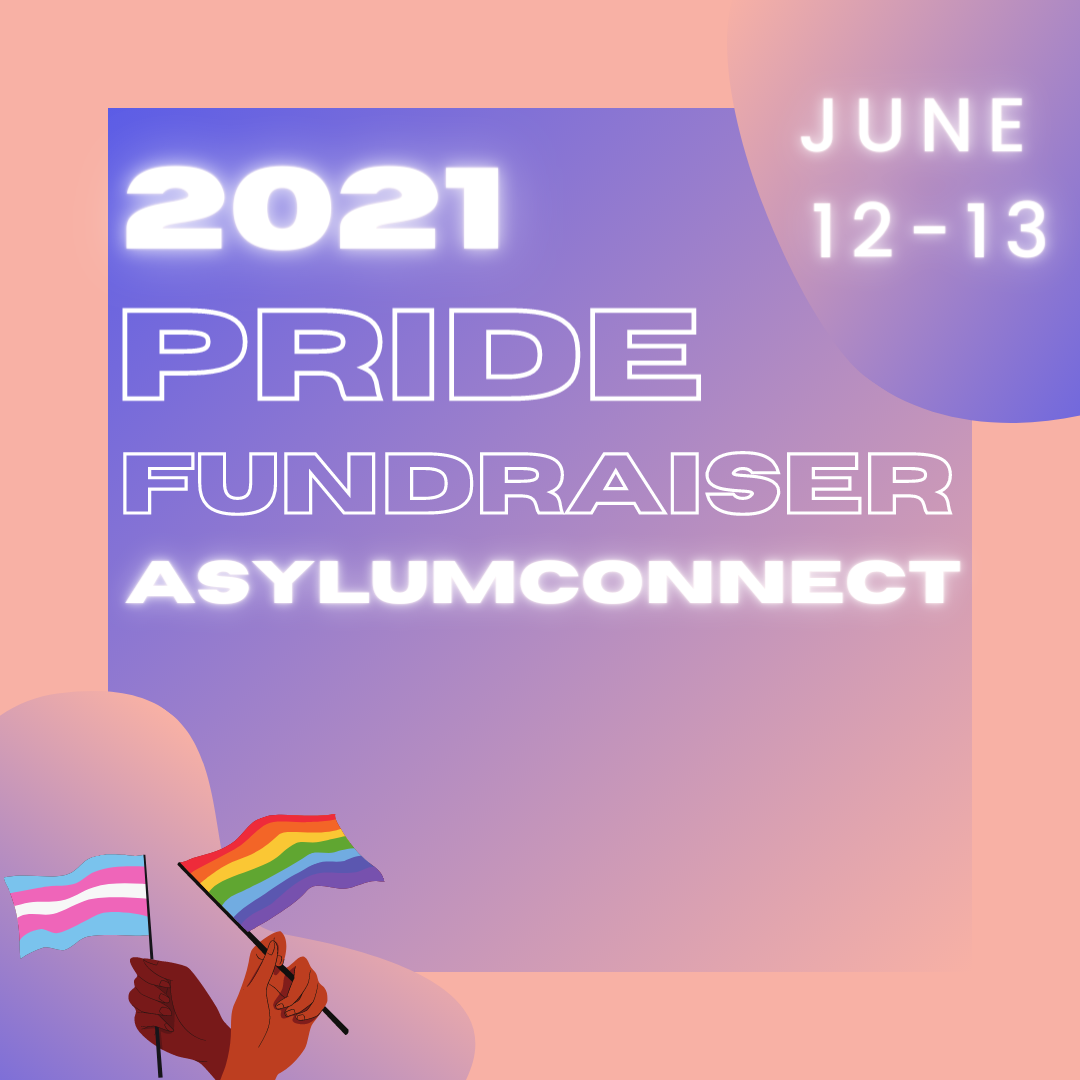 AsylumConnect Junior Board Presents: Virtual Pride Fundraiser
AsylumConnect is thrilled to announce our upcoming Pride Month Fundraiser, a virtual event hosted by the 2021 Junior Board, happening June 12-13! This is your opportunity to hear from expert panelists about the pressing challenges faced by LGBTQ+ asylum seekers and refugees, and to learn more about AsylumConnect's free groundbreaking technology.
In 80+ countries it is still illegal or fundamentally unsafe to live openly as a LGBTQ+ person. As a result, thousands of queer and trans people seek asylum or refugee status in a safer country every year. AsylumConnect is a 501(c)(3) nonprofit organization providing the world's first web and mobile platform designed to facilitate the safe navigation of LGBTQ+ people fleeing persecution. Our free web and mobile resource platform instantly matches vulnerable LGBTQ+ people with verified safe legal, medical, mental health and social service providers. Since launching in 2016, our free technology has made over 75,000 matches between LGBTQ+ people fleeing persecution and vetted, safe and affirming services providers.
The full AsylumConnect platform is currently available in 35 U.S. states, Canada and Mexico, and also offers a translated international resource page for LGBTQ+ asylum seekers and refugees who are still in transit.
The AsylumConnect Junior Board is a group of young professionals committed to supporting AsylumConnect's critical work through fundraising, networking, and marketing, and we are proud to be hosting this virtual event in support of AsylumConnect's critically important work. By attending this event and contributing to AsylumConnect's platform, we, together, can ensure millions more LGBTQ+ people fleeing persecution are successful in rebuilding their new lives.
This virtual event will take place over both Saturday (June 12th) and Sunday (June 13th), with multiple events each day and exciting guest speakers throughout. All proceeds will help advance AsylumConnect's work and mission – and will allow you to hear from an exciting list of moderators and panelists, including: event MC/host Janae SaisQuoi, AsylumConnect Co-Founder, former Executive Director and current governing board member Jamie Sgarro, and our keynote speaker Jupiter Peraza!
Tickets are on sale now at the link below – and we hope to see you there!
https://ac-2021-pride-fundraiser.eventbrite.com
**Funds raised by this event will be matched up to $12K by the AsylumConnect Junior Board.**About the Keynote Speaker: Jupiter Peraza (Director of Social Justice Initiatives at The Transgender District, DACA Recipient, M.A. International Relations) is an undocumented trans woman, activist, organizer, DACA recipient, and Director of Social Justice Initiatives at the world's first Transgender Cultural District. Her work at the Transgender District focuses on bringing attention to the intersection of immigrant and trans rights. IG: @jup500
About the Event Host & MC: Janae SaisQuoi (Drag Queen, Storyteller, Activist) is a native New Yorker, and a newcomer in the NYC drag community. Janae has competed in Drag Wars, Polish the Queen (virtually) and the final season of Ultimate Drag Pageant where she was 2nd runner up. A member of the Haus of Cummings, Janae wholeheartedly believes that drag is political and seeks to impact people with her looks, platform, and performances. IG: janaesaisquoi_
For more about the Junior Board throughout the year, stay tuned here on the AsylumConnect Blog for our guest posts, and follow us on Instagram at @asylumconnectjb. You can also learn more about the AsylumConnect Junior Board Program via our website here.
#Pride #PrideMonth #Pride2021 #LGBTQ #LGBTQRights #RestoreAsylumNow #RefugeesWelcome #TechForGood #AsylumConnect