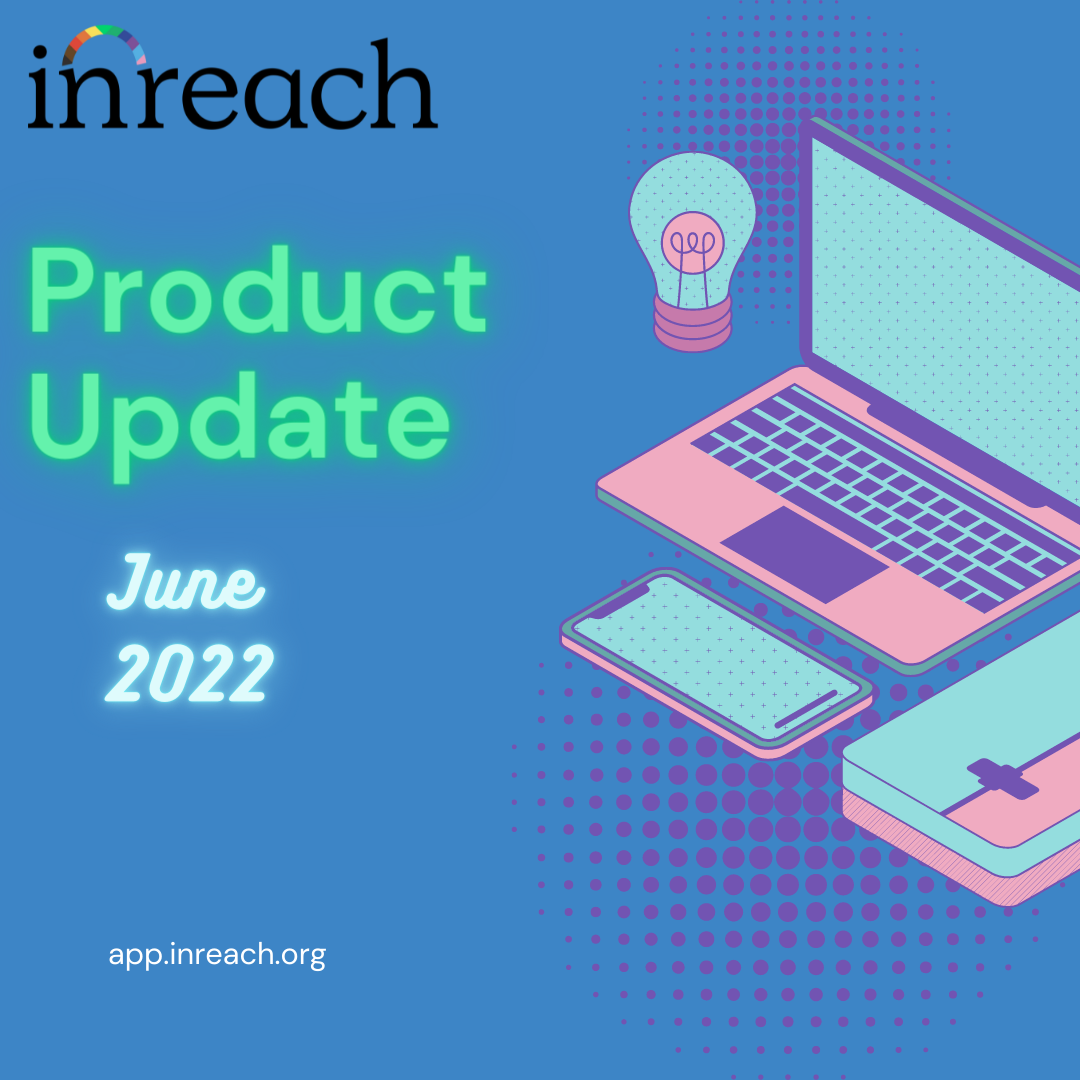 InReach Product Update (June 2022)
InReach App Change Log – June 2022
See below for a log of technical enhancements made to the InReach App during June 2022. Follow our blog's change log series for future monthly product updates.  
Want to use your engineering skills for good? We're looking for experienced volunteer web developers to join our remote team. 
InReach App Front-End
On June 24th, 2022, the U.S. Supreme Court overturned Roe v. Wade. We have added a new Abortion Care Service type filter to our free App to help connect LGBTQ+ people in need with verified, affirming abortion care. We believe in reproductive justice for all women, men and nonbinary individuals who can become pregnant.
Added Abortion Care category and subcategories to the "Service Type" dropdown menu for all countries (United States, Canada, Mexico):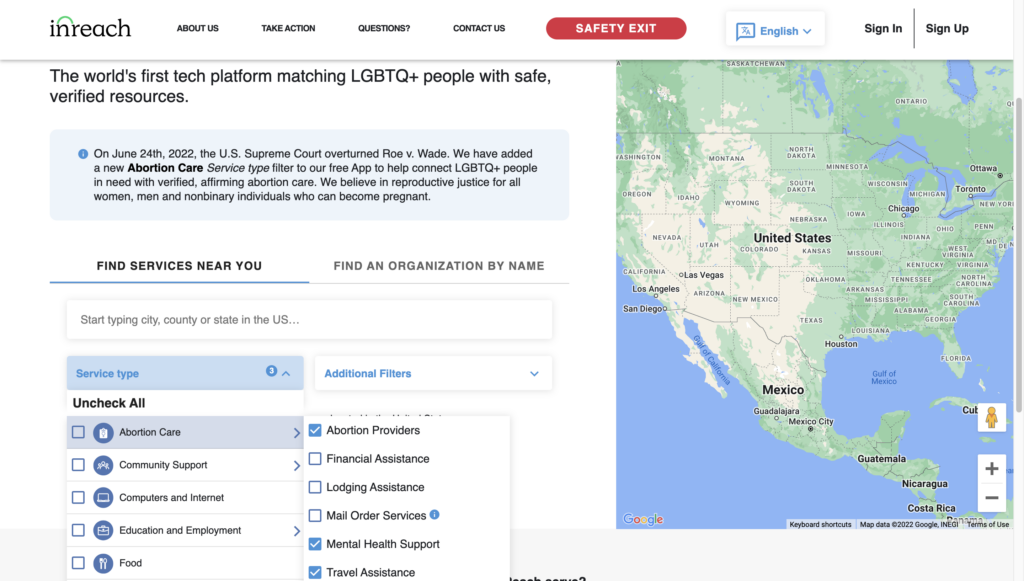 Added new Legal Service Type Subcategories for the United States to continue to make the free InReach App more inclusive and comprehensive for the diverse LGBTQ+ community:

Citizenship
Employment Authorization
Family Petitions
Residency
T Visa
U Visa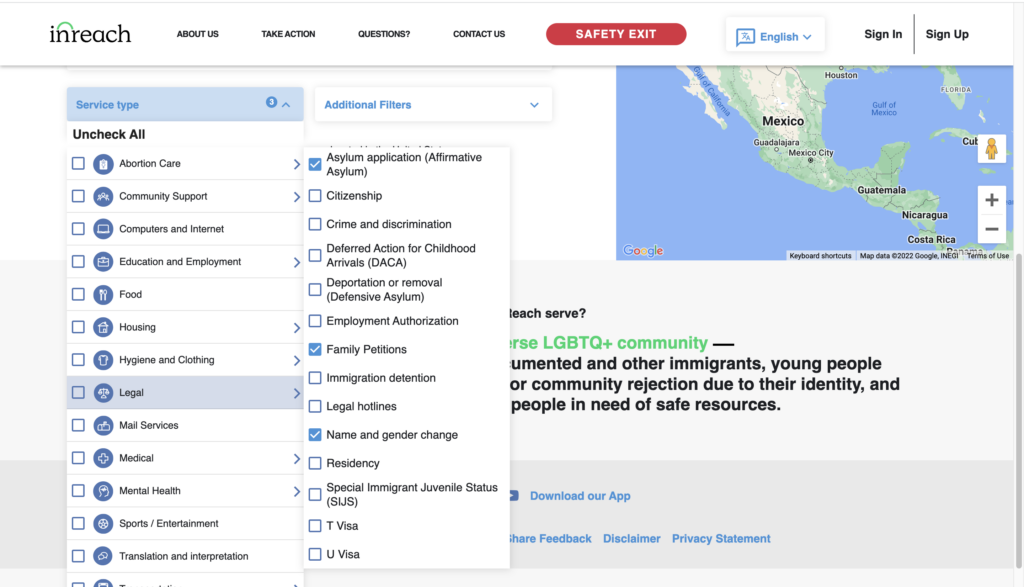 Added clickable text to the "Verified Information" badge tooltip on direct service providers' profile pages. Now when the tooltip is clicked, it brings users to our homesite's "Vetting Process" page, which contains more information on InReach's unique and rigorous verification process designed to maximize user safety and data accuracy.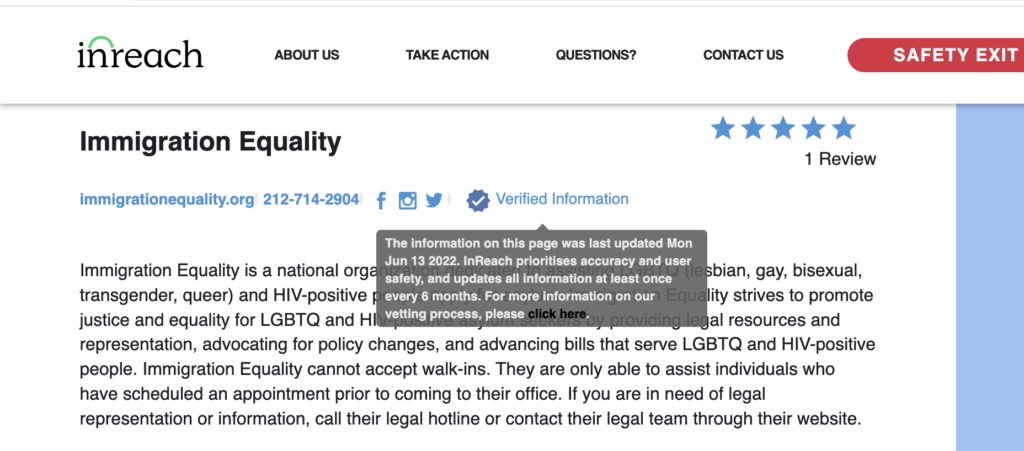 *Note on mobile devices: For elements with tooltips (as shown above) – users will be able to click on those elements to access the tooltip since there is no "hover" state for mobile devices
Updates the services support language list display "Mandarin" instead of "Chinese"
Includes clean-up/maintenance work related to our recent rebranding from AsylumConnect to InReach
Control Panel (Backend Data Portal)
Updated the "Filter Organization" search functionality in the App's backend data portal homepage to allow for staff and trained volunteers to more easily filter verified resource data
Added new legal tags (for the United States) to the "Filter Organization" search functionality:

Family Petitions
Residency
Citizenship
Employment Authorization
T Visa
U Visa
Added previously missing tags to the "Filter Organization" search functionality:

Computers and Internet
Food
Mail
Sports and Entertainment
Translation and interpretation
Added new "Abortion Care" category tags to the "Filter Organization" search functionality:

Abortion Providers
Mail Order Services
Lodging Assistance
Travel Assistance
Financial Assistance
Mental Health Support
Updated "Filter Organization" search functionality tags dropdown to now groups tags by category
Updated the "Service Area Coverage" filter to now display as a dropdown list (instead of text field) for an improved user experience
DevOps and Quality Assurance (QA)
Implemented Automation Refactor
Added Github and Asana integration
Configured Github repo with public and private teams  – to prepare the InReach App for open source
Expanded and improved our technical documentation